How to Build Networks Using a Hardware Router (Cont.)

By: Walter Metcalf
Date: 10/05/00

This week we are continuing our short series on the hardware router by continuing to examine its advantages over using one of the PC's on the LAN to do the job. While the latter may more flexible in certain situations, using a dedicated hardware router has many advantages. In this article we shall continue to look at some of these advantages:

First, however, here is a screen shot of the LinkSys BEFSR41. Its cool design puts the connectors at the back out of the way and multi-coloured LEDS at the front that give you a very complete picture of the activity taking place within both the LAN and the WAN.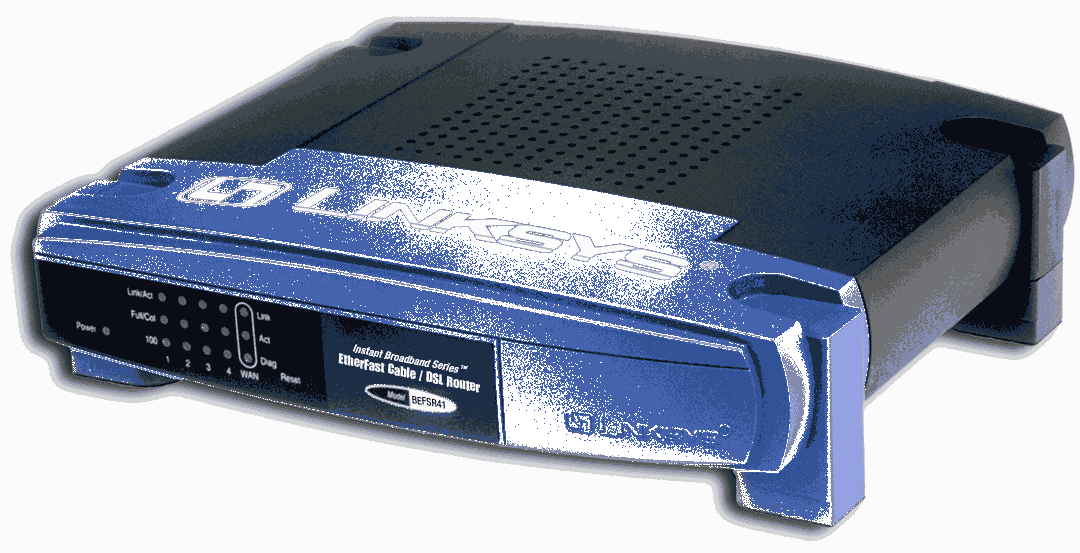 [ Click to expand image. ]
B. Advantages of Using a Router (Cont.)

Any (client) workstation can ALWAYS access the Internet or any other LAN resource that is online.

My family doesn't lose their connection when I reboot, turn off my computer, or perform maintenance on my main computer.

Router's Dynamic IP successfully tracks IP changes due to ISP's DHCP server.

So now we are up virtually all the time. (Cable service interrupts in our area are very rare.)

DHCP Server

Allows me to disconnect a computer from one cable and connect to another without reconfiguring computers.

Supports Dynamic Routing.

Allows multiple routers on the LAN.

e.g. LinkSys & InJoy Firewall on my Desktop.
This might be useful in a situation where two users wanted direct exposure to the Internet. (The LinkSys router only supports one such user.)

I don't currently have a need for this feature.

Diagram of Network with Router

[ Click to expand image. ]




If you compare this diagram with that of the Basic Network at the beginning of this series, you'll see that the crucial difference is that instead of one of the PC's standing between the (rest of the) LAN and the cable modem, here the router performs that function. This puts all the PC's on an equal footing, giving them all the same access to the Internet.

Network with H/W Router

C. Router Installation

Point browser at URL 192.168.1.1

When router is connected to your computer it takes IP address 192.168.1.1
Remember to assign your computer a different IP later on when configuring TCPIP notebook.

Initial Logon

Leave UserName blank
Enter Password = "admin"

D. (Basic) Router Setup

Router Name

name of your computer
supplied by provider
not required by all providers

Domain Name

supplied by provider
not required by all providers (Note)

LAN IP Address

Set to 192.168.1.1 netmask 255.255.255.0

WAN IP Address

If your provider uses Dynamic IP, select, "Select IP address automatically"
Otherwise, specify the address assigned by your provider.

PPPoE

If your provider uses PPP over Ethernet, select Enable, and fill in the rest of the parameters with the correct values.

If all the values are OK, click on "Apply".
Click on "Continue".

Next week we shall complete this mini-series appendix to the Peer Networking Series by showing how to modify the OS/2 networking objects to accommodate the router both in static and dynamic modes. Please join us then.

For Further Reading:

Digital Subscriber Line
A list of sites giving substantive information on DSL and alternative high-speed links to the Internet. Written by About Guide Bradley Mitchell.

Internet on Cable
Good discussion of Internet on Cable and how it differs from DSL. Especially relevant to Canadians. Written by AboutCanada Guide Marco den Ouden.

xDSL Technology
Practical information on xDSL technology including how to share a modem/cable/xDSL connection between multiple computers. Written by Randy Day.

—Walter Metcalf

Unless otherwise noted, all content on this site is Copyright © 2004, VOICE